WAITING - Rising-Wealth.net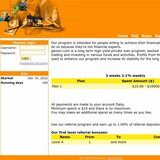 Support:
Plans: 0.7% - 0.9% daily for 10 - 15 working days (deposit returned),...
Request RCB 100%
Project Description :
rising-wealth.net is a private loan program that puts quality and stability at the forefront for a service intended both for small investors who need financial support for small daily expenses and for large investors willing to have a passive income able to guarantee financial independence without deprivation. The platform foresees a long and slow development which step by step will guarantee long-term stability and consequently excellent profits for those who will trust us. Expect changes to accompany growth and improve service quality, with a deliberately controlled and limited departure.
Use this code to place the button on your site
Use this code to place the floating button
Top - Left
Top - Right
Bottom - Left
Bottom - Right
Report scam